SPECIAL OFFERS



ABOUT BULGARIA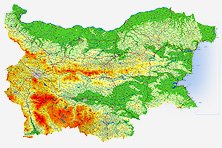 Bulgaria is a beautiful country that is gaining popularity with Western Europeans.
SUNNY BEACH MAP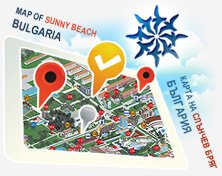 WEATHER REPORT


The most suitable place for a holiday, Panorama Beach is for all, who would love to dedicate their free time in care for the spirit and body, at the same time in combination with sense of luxury. At guests disposal are outdoor and indoor swimming pools, children's pool, bar, restaurant, sauna, Jacuzzi, solarium, SPA center, parking.

The complex is situated three km north from St.Vlas on the road between Sunny beach and Elenite. Just at the very sea line, at the foot of small Balkan height, but same time close to the famous resorts, the guests of and Panorama Fort will enjoy a quietness and privacy.

"Panorama Krim Beach" is located between Ravda and Nessebar. The complex holds probably the first place for a picturesque panorama.Just minutes away from the beach, this charming holiday village is the perfect place to enjoy a peaceful stay while its proximity to Sunny Beach and Nessebar gives oportunity for an easy access to the entertainment offered in these resorts. Apartments are comfortably furnished with everything you need for a carefree stay. Guests can use the kitchen facilities for food preparation.

Prestige Fort Beach is located in the north part of the most famous Bulgarian resort Sunny Beach, a place full of natural beauty, entertainment and fun. This cozy complex offers you an exceptional combination of privacy, rest and recreation.

Privilege Fort Beach is situated near the holiday village Elenite. Here you can enjoy the magnificent landscape and rare combination of mountain and sea climat.Spending time sunbathing, swimming in the crystal sea waters, or walking in the pine forest will leave unforgettable memories with you. The children will love to spend their time around the pool or at the playground.

Rainbow 1 Complex is a large and elegant gated apartment complex located in the southern part of the Sunny Beach resort. It enjoys an excellent location. It is located 200 m from the most famous beach of the Bulgarian Black Sea - Cocoa Beach. The complex has an outdoor pool with a children`s section, a restaurant, a gym, a sauna, a bar, a lobby bar, a supermarket, a pharmacy.

Ravda Holiday Apartments is nicely located between Nesseber and Ravda, away from the noise of the city. The complex is situated only 300 meters away from the beach and an about 10 minutes by bus from Nessebar and Sunny beach, where you can enjoy all attractions the resorts has to offer. The complex offers you at the same time the tranquility of this residential area and the convenience of being close to the shopping area and the famous Aquapark.